Scenic Maldives!!!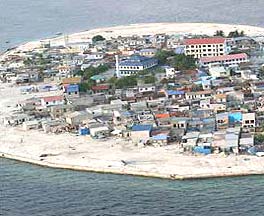 Maldives is an archipelago consisting of a beautiful string of 1,190 low-lying coral islands scattered across the equator in the vast expanse of the Indian Ocean, giving us a rare glimpse of what is aptly described as a tropical paradise.
The Maldives has the most beautiful tropical scenery, graceful coconut palms leaning over crystal-clear lagoons, coral reefs promising great snorkeling and scuba diving, and lots of sunshine. In fact, all the ingredients that makes the classic desert island.
The brilliantly colorful corals reefs, making the Maldivian seascapes amongst the most enchanting in the world, is a nature's treasure house, an El Dorado for diving enthusiasts, providing opportunities to experience the unique and beautiful underwater scenery which is a realm of a great variety of fish, corals, and other marine denizens.
Maldives is one of the best diving destinations in the world. Tour Maldives and explore breathtaking dive sites, a colorful and fascinating underwater world, perfect conditions throughout the year and a visibility every photographer dreams of.