Amazing Thailand!!!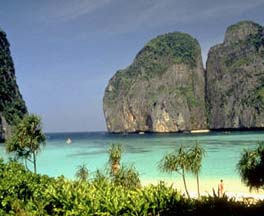 Thailand offers you every kind of attraction from breathtaking natural scenery and ancient relics to colorful nightlife in Thailand and elegant Thai handicrafts. At the heart of Thailand is Bangkok, a vibrant city that has a charm unlike any metropolis ever seen. Another city Pattaya has gained the title of "The Rivera of Thailand" making it Thailand's premier and most developed beach resorts.
The superb Thailand hotels offer warm hospitality, and unrivalled service. You can stay in Bangkok hotels, Pattaya hotels, Phuket hotels, Koh Samui hotels, Chiang Rai hotels, and Phi Phi Island hotels, and explore various possibilities in this incredible land. Thailand travel guide helps you to plan your vacation and enjoy the country blessed with extraordinary natural resources and culture.
The features of Thailand include exotic temples, Buddhist monks, traditional dance and performance, bustling markets, exotic food, nightlife, rich wildlife, and island resorts with the world's most beautiful beaches. Visit temples of the Golden Buddha, Thailand's natural safari park – Safari World with Marine Park, Coral Island – the largest of Pattaya's archipelago, and Tiffany - the famous nightclub show.